The telephonic transmission of scanned text and images on paper is generally called fax. At present, the fax machine becomes very useful as well as helpful in the field of business, education etc. It helps to send and receive data effortlessly and so the popularity of this device is being increased day by day.
Online fax service or E-fax is something that is used with the help of internet. Through this service people can send hard copy of data from one place to another place very easily. Basically, there are many companies that offer online fax services. Some of them are free and on the other side some provide paid service. Here, in this article, you will come to know about top 8 best free online fax services that would surely help you.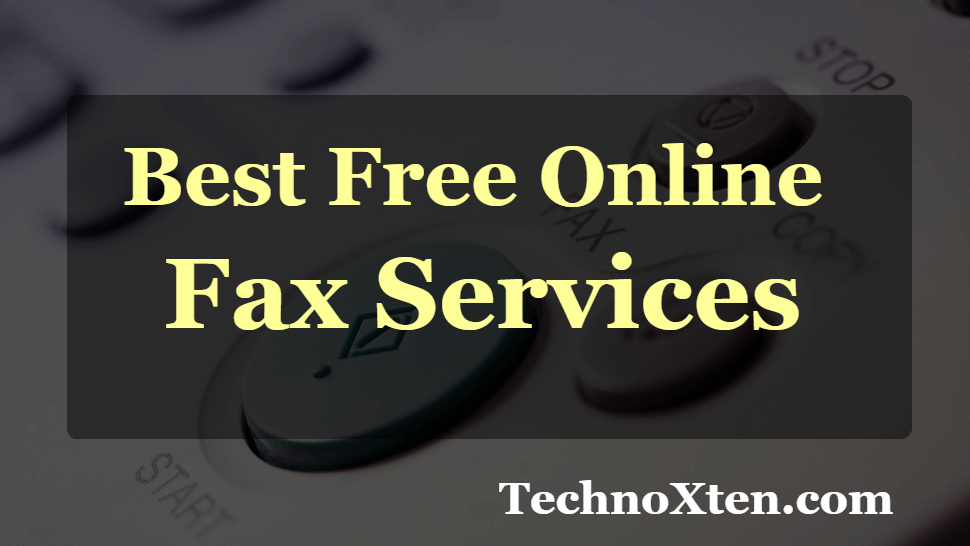 1. eFax
If you are looking for free online fax service, eFax is a good option for you. Users just have to sign up on the official page of it in order to access the features. It may be mentioned that this is perfect for professional use.
eFax offers two kinds of services- free and paid. If you are a free user, you can send up to 10 faxes per month. On the other side, paid users can send unlimited faxes. There is another important option which is called electronic signature. It makes faxing more secure and users would surely love it. Besides, users can access it from anywhere as it has mobile application that increases its flexibility.
Visit: https://www.efax.com/
---
2. Fax Burner
Another good option is Fax Burner which offers free online fax service. Through it, users can send as well as receive faxes. Fax-to-mail is supported by it and therefore faxes will be received directly to the user's e-mail.
Fax Burner has a mobile application that is available for iPhone and Android users. Therefore, users can have access to Fax Burner. It has some other features that are mentioned below:
Free fax number
Archive faxes
Multipage fax
Disposable fax number
Visit: https://www.faxburner.com/
---
3. Hello Fax
Hello Fax provides free online fax service and users just have to sign up on their official page in order to access its features. You can send documents in various formats via fax. Through this service, users can even receive images and documents in .doc and .pdf formats.
Another important feature of Hello Fax is that it can save the sent faxes online for future use. But for this, users need a Google or sky drive account.
Visit: https://www.hellofax.com/
---
4. Fax Better
If you do not want advertisements on your faxes, you should select Fax Better which offers free online fax service. One of the important features is that it notifies you via email whenever you receive a new fax.
There are many other important features that Fax Better provides. Toll-free fax number is one of them. It also offers storage up to 1000 pages. The customer service of Fax Better is very good and users can access it instantly.
Visit: https://www.faxbetter.com/
---
5. My Fax
My Fax is one of the best online fax services and it is out and out free. The important aspect of it is that users do not have to sign up or register in order to access its features. You just need to visit the official page of My Fax and after that they can send fax to desired location. Fax number and name of the receiver are required in order to send faxes.
My Fax basically allows you to send maximum two faxes in a day. The most important thing is that users can send documents in different formats like .doc, .pdf etc. Overall, it is a good option for you, if you are looking for free online fax service.
Visit: https://www.myfax.com/
6. Fax.Plus
Fax.Plus is another good option for online fax service, and it has its free as well as paid services.
Well, if you go for free services, you can send up to 10 faxes per month, and it offers Unlimited Secure Fax Storage to its users. Users need to sign up to get access to these features. In order to receive faxes, a unique fax number is also provided to the free users. Another important feature of Fax Plus is that users can directly send fax from MS Word and PowerPoint by using it. Besides, it is available on all platforms such as Android and iOS and so users can use it from anywhere using their mobile phones.
Visit: https://www.fax.plus/
7. Got Free Fax
Got Free Fax is another great option that enables its users to send fax in any file format including .doc, .pdf, .odt, .rtf. You will hardly get this advantage from others.
It has another great feature where users can directly enter the text or upload the attachment in the form of a document. Got Free Fax offers two kinds of features-free and paid. In its free section, users can send up to two faxes in a day. Besides, it can store sent data for up to 5 days after sending faxes.
Visit: https://www.gotfreefax.com/
8. Fax Zero
If you do not like the complicated signup process and want a site from where you can send faxes for free, then Fax Zero is perfect for you as it offers a free online fax service.
Users just have to upload the data and after that, they can send it. Fax Zero supports different formats that include .doc, .pdf, GIF, JPEG, PNG, etc. The free section of Fax Zero offers its users to send up to five faxes in a day. In order to send unlimited faxes, users have to purchase the premium version. But the free version offers so much that you do not need to go for the premium version.
Visit: https://faxzero.com/
Conclusion
In conclusion, it may be remarked that online fax services have become a trendy feature nowadays and that is why it is gaining so much popularity. It must be admitted that it is somehow better than mail as receivers get a direct hard copy of data from this. The above-mentioned free online fax services are the best till now and so this article would add nothing but advantages to your professional life.