Most are already used to seeing slim TVs measuring only a couple of inches deep nowadays. Yet technology has taken us to our present reality – our fantasies and dreams have become a reality, there is actually artificial intelligence, and there are wallpaper-thin TVs.
Wallpaper TVs are innovative, and as we recognize it, they are revolutionizing the future of television. Now would be the best time to look more closely at what the OLED Wallpaper TV from LG can actually do.
It offers cinematic images and sound and an incredibly slim profile at almost 4 mm thick. Discover the thinnest TV available– the LG OLED Wallpaper TV.
Features
Kudos to more than 8 million self-lit pixels, LG OLED TVs provide you with a whole new TV experience. Enjoy the darkest blacks, brightest colors, and image quality that is realistic. Here, read more about the specifications.
Slim Design
Wallpaper TVs live up to their label, to begin with. They are as thin as 3.85 mm (or approximately 0.15 inches thick), weigh almost nothing, and can be hung like a beautiful work of art on a wall.
But the sight can be equated to that of any artwork in a museum. For a more immersive experience, all distracting elements have been excluded, and for an additional touch of elegance, the paper-thin design becomes one with your wall.
On this incredibly thin display, made even more stunning and engrossing by the perfect black and intense color of LG OLED technology, movies, sports, games, and all your beloved content come to an exhilarating new life.
Sharp Picture
In addition, the latest alpha9 Intelligent Processor, which makes the most of the self-illuminating pixels of this OLED TV, offers rich colors, exceptional sharpness, and intensified depth for true-to-life images.
It uses 8.3 million individually lit pixels, unlike LCD or traditional LED technology, which can dim or switch off entirely, offering absolute black, intense colors and a degree of detail that is unthinkable for any other television, for what is seriously the best picture ever.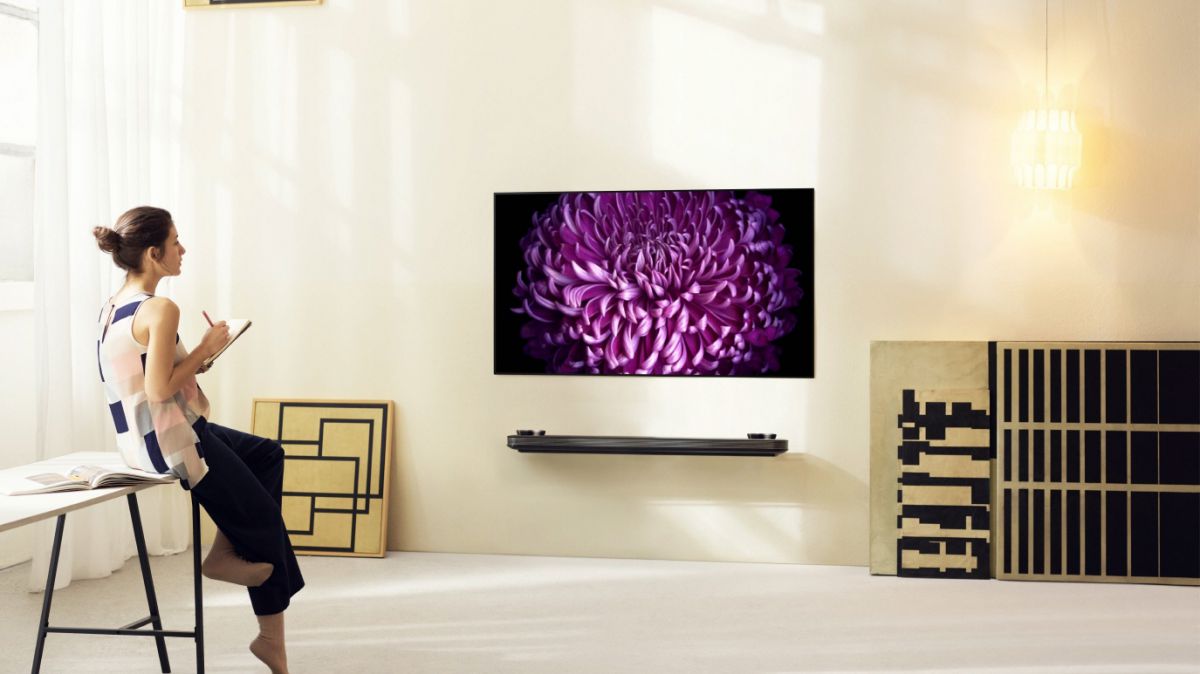 Artificial Intelligence
It has AI (Artificial Intelligence) ThinQ, which indicates that it has the built-in Google Assistant, making it the smart home hub. Simply scan for the shows you're searching for, change TV settings, turn to various inputs, etc. using Intelligent Voice Control.
And you can ask it to pull up family images, manipulate light settings, check the weather, and more with Google Assistant. Plus, it functions for devices using Amazon Alexa.
Sound
You also get comprehensive support from Technicolor, HDR10, and HLG for big 4K high dynamic range formats, plus premium Dolby Vision, as well as Advanced HDR.
They also have a soundbar that offers immersive, accurate audio from Dolby Atmos that places you in the center of any moment.
Swift Response and Smooth Motion
OLED Motion is a technology that you see, but don't notice. In sports and action scenes, it's motion handling for rapid motions. With less stuttering to slow down the major car chase,
Kickoff returns look just as seamless at home as from 50-yard line seats.
Combined with the new gaming features and innovation, individual self-lit pixels give a competitive advantage with less slowdown, fast refresh rates, and amazingly smooth and sensitive gameplay.
Final Words
Although the relatively cheaper 65-inch model of this Wallpaper TV, which costs $5999.99, has been available for a while, you can now acquire or purchase the flagship 77-inch model for $9999.99.
LG's wallpaper thin W series of 4K OLED TVs amazed everybody at CES with their almost impossibly slim design. For what it's worth, you're still getting the thinnest TV ever created! You can watch and stream to your heart's content.