Fake E-mail Generator is such a concept that has taken the internet by storm. Given that the personal security of a user is always at risk using third-party websites, it is essential to have a way out of this problem. A fake Email generator is something that fits in for this role. There is absolutely no need to enlist the numerous problems that you face after sharing your email address. All these problems have induced users to turn to fake email generators.
Getting access to websites can turn out to be daunting if you have to share your email address to proceed with the operations. A fake email generator lets you face the problem of saving personal security pretty well. Keeping in the context that email addresses are connected with bank details and other confidential platforms, fake email generators have turned out to be really important.
Fake email generator facilitates the users to focus on their work rather than being scared of their information is at risk. Fake email generators are an aesthetic way to keep your information secured and you at peace. Not many people are aware of the choices they have at their disposal when it comes to choosing the most suitable fake email generator. Read on to know about the list of best fake email id generator that is bound to leave you shocked.
List of Top 12 Best Fake Email Address Generator Tools
Dispostable – Create Disposable Email Accounts
YopMail
GuerrillaMail – Disposable Temporary E-Mail Address Tool
10 Minute Mail
GMX
Anonymous Email
Mailinator – Fake Email Generator Site
Mail.com
myTrashMail – Temporary Email Accounts Generator
Outlook
ThrowAwayMail
Email Generator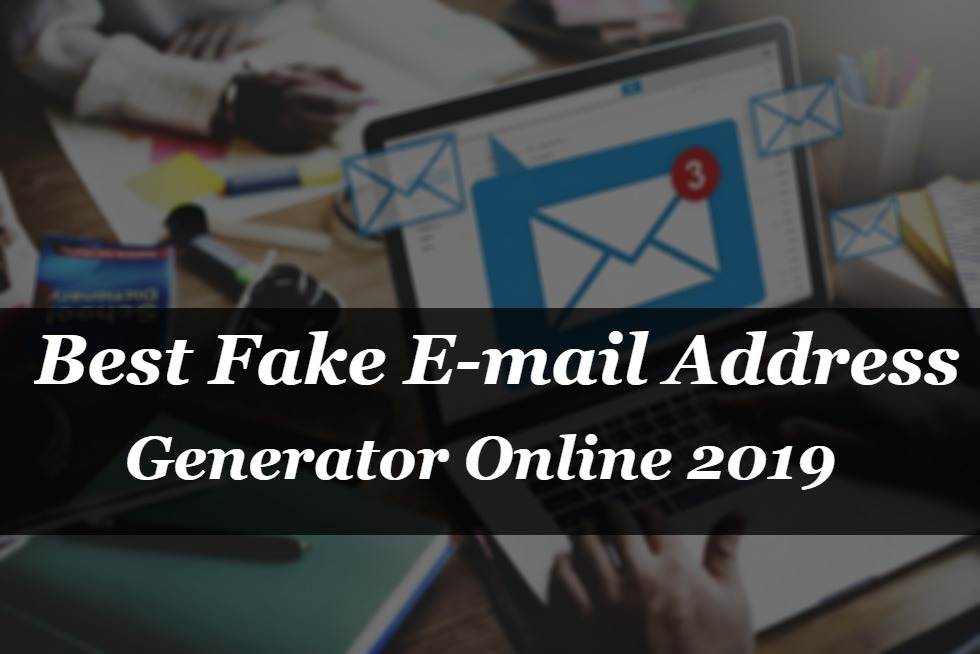 You may also read some related stuff
-> 10 Best Sites to Send Free SMS Without Registration
-> 08 Best Free Online Fax Services                                                                   
Best Fake Email Generator Sites 2019
#1 Dispostable:
When it comes to naming the easiest fake email address generator, Dispostable surely leads the list. The website allows users to create as many emails as they wish. With a smooth interface, it is one of the best sites for email ID generators. Owing to the fact that it is a service that is easy to use, Dispostable is quite famous among users. The demand for fake emails is fulfilled easily and leaves no thought for the user to switch to other services.
URL: https://www.dispostable.com/
#2. YopMail:
This option of a free email ID generator allows the users to create an email account with just one click. Talking technical, the accounts you create with this fake email generator already exist, and the user just needs to provide a name. YopMail is one of the fake email generators that has features like storing messages for 8 days, no password, and an auto-generated inbox. These features are surely enough to induce the users to not only use this fake email generator, but only recommend it to other users who yearn for a good fake email generator online.
URL: http://www.yopmail.com/en/
#3. GuerrillaMail:
Guerilla is such a fake email generator that most people prefer it due to its user-friendly interface. The working of this fake email generator is quite simple, the id is created just after the details are filled in. It even allows users to send attachments of 150 MB files. It lessens the chances of spam landing in your actual or official email address. All that it takes is 9 seconds to get started with a fake email anonymously.
URL: https://www.guerrillamail.com/
#4. 10 Minute Mail:
This fake email generator provides the user with a fake email for 10 minutes. The users have the option to create emails as per their demand without having to shed anything from their pockets. In order to prevent spamming of the official email account, the emails you receive are visible on the homepage of this fake email generator. The users can read the mail and reply it directly from the homepage itself. All these features make this fake email generator an impressive choice.
URL: https://10minutemail.com/
#5. GMX:
This fake email generator has garnered a huge fan following in recent times. It provides you with a fake email that you can utilize for any shopping address or any random requirement. After creating an account with this service, users can peacefully keep an eye on important messages. You may even choose to delete one email ID once it is filled with enough spam messages and shift to using another email.
URL: https://www.gmx.com/
#6. Anonymous Email:
This fake email generator is quite famous among shopping freaks. Coming over to the reason, people on shopping websites have to provide email addresses and there are huge chances of your inbox being spammed afterward. By using this service, people can share their email without any second thoughts. This option is quite famous among the users owing to the fact that it provides fast services and that too for free.
URL: https://anonymousemail.me/
#7. Mailinator:
Users might find this similar to any other fake email generator available online. This service aims at providing access to a fake email as soon as possible. Coming over to the unique point of this fake email generator is that it doesn't require any sign-up or registration, which might be the case in other choices available to the users. You can open, read and reply to the mail really quickly. The temporary email gets terminated really soon too.
URL: https://www.mailinator.com/
#8. Mail.com:
If you are dead sure about your requirement being more than 1 fake email, this one is just for you. This fake email generator offers personalized email services besides other features. Users even have the option of customer service in case they come across any sort of challenges using this fake email generator service. This surely again is one of the best ways to prevent your inbox from being spammed. Providing customer service is an added feature of this fake email generator, as it is of great help to new users that might face difficulty in getting started with the processes that follow.
URL: http://www.mail.com/
#9. myTrashMail:
This fake email generator is quite popular owing to the fact that it offers a huge variety of different domain names. Besides that, it provides information about the status of domains on the right sidebar. You can use the new emails in the fake email IDs and prevent the problem of spamming greatly.
URL: http://www.mytrashmail.com/
#10. Outlook:
Outlook surely comes across in the mind as a famous business email platform, but not many know that Outlook is also the most popular fake email generator too. It allows the users an option to create five unique fantasy email addresses. This service is available when you eventually log in to Outlook.com. The users can utilize all the fake emails manually and even store the mail for the long term in the future.
#11. ThrowAwayMail:
This is another fake email generator that caters to your need for fake emails within a few clicks. You can utilize them to sign up or even receive confirmation. The expiration time of the email has been set to 48 hours. As it is clear from the statement, the inbox is deleted after 48 hours and if you still wish to use it, you simply have to log in within 48 hours for an auto-renewal for another 48 hours. This feature surely does justice in setting this fake email generator apart from other competitors.
URL: https://www.throwawaymail.com/
#12. Email Generator:
The process of creating fake mail is just two steps. Visit this fake mail generator and click on generate new email option. There is no need for users to sign up to prevent their inboxes from being spammed. You can create as many emails as you like, which is quite common among the famous fake email generators.
Conclusion: Random Email Address Generator
On evaluating the above list of fake email generator sites, one can easily outline that all the service providers are more or less similar to one another, yet have a unique point. Some fake email generators prompt the users to sign up and some don't. This simply implies that it is the choice of the user to choose which option to go for. These options are a verified source of generating fake emails. You can easily use any one of them or maybe more as per your demands to easily create your fake email address and protect your inbox from getting spammed.