Fantasy sports seem to get more popular with each passing year. There are always new formats, new people getting interested for the first time, and of course, new and updated apps on which to play. Choosing favorites at least partly depends on one's personal preferences. As an overview of popular options though, here are our own picks for seven of the very best fantasy apps for Android.
1. Yahoo Fantasy Sports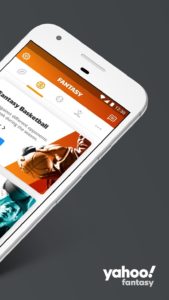 The Yahoo Fantasy App is perhaps the most comprehensive go-to for all fantasy sports. While one might expect that ESPN would rule the category (as it does general sports coverage), Yahoo is considered to be on the same level. In fact, both apps are even cited for their fantasy rankings in preseason coverage for leagues, as a matter of news. The Yahoo Fantasy app covers football, baseball, fantasy, and hockey, and also has its own daily fantasy and pick'em games (on which people can play for real money without violating anti-betting laws, in most states). Really though, it's the app's intuitive design that tends to hook users. Most of all the ability to flip between your teams, even across different sports, is very easy.
2. ESPN Fantasy Sports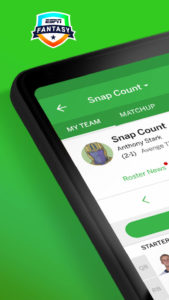 While Yahoo is right on ESPN's level when it comes to fantasy apps, the ESPN Fantasy Sports app is very much in the conversation for the best option out there. Redesigned not long ago, it's a robust, beautiful mobile tool that handles league management for all the same sports Yahoo covers. ESPN Fantasy Sports does not have its own daily fantasy game, but it does have pick'em-style games, and also houses ESPN's popular "Streak" game. In that free-to-play game, users seek to predict outcomes in various sports (sometimes several times in a single day) and make enough consecutive correct calls to be in the running for cash prizes.
3. DraftKings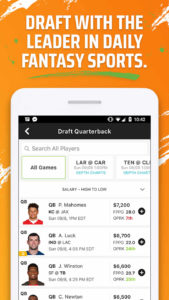 DraftKings is one of the leading daily fantasy sports apps. It doesn't include regular, season-long fantasy sports, but has seemingly innumerable daily and weekly contests concerning a huge range of sports and events (including things like golf, tennis, and even eSports). Additionally, with sports betting becoming more widely legalized, DraftKings now has its own full sportsbook for users in areas where it's allowed. It's already among those apps offering odds on the NFL (the most popular sport for fantasy players), and will likely only expand its sportsbook in the near future.
4. FanDuel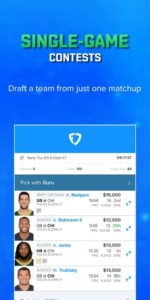 FanDuel is almost an exact counterpart to DraftKings, right down to the fact that it's also slowly rolling out a sportsbook. It has a similar range of sports and contests, even if minor specifics differ between the two apps. Both are excellent, and which one people prefer in this case seems to come down almost entirely to personal preference. As far as we're concerned, while DraftKings may have slightly more name recognition, FanDuel might, by a slim margin, be the nicer app to use.
5. Draft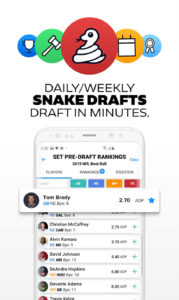 Draft is actually another app by FanDuel, but it works differently. It's another daily fantasy app, as opposed to a season-long one. But where other daily apps like DraftKings and FanDuel allow players to choose rosters of players with artificial salary caps, Draft runs constant "snake drafts," which more closely mimic the way a lot of people pick teams in season-long leagues. With a salary cap, players have to budget carefully and choose players whose artificial salaries don't, when combined, exceed the allowed total – but users competing in the same contest can have the same players. In a snake draft, there are no salaries and users simply choose players off of a board together in real time, without duplicates. The description "snake" comes from the winding pattern of the draft, such that in 10-user league, the person who picks 10th in the first round then picks 1st in the second, and so on.
6. Premier League – Official App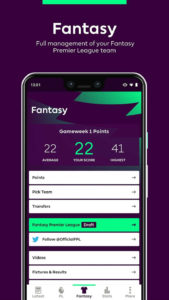 While there are other apps that have fantasy soccer included at this point, it's not generally a sport that's associated as closely with fantasy sports – at least not by the massive American audiences who were typically introduced to fantasy through baseball or football. That said, many love the idea of building fantasy teams from the internationally popular Premier League – the top division of English soccer. The Premier League Official App is the primary mobile tool for monitoring all things relating to the league, but has also become a go-to hub for season-long fantasy soccer.
7. Sleeper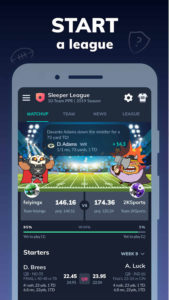 It's hard to say too much about Sleeper yet, but the concept makes it worth of this list. Attempting to challenge Yahoo and ESPN for fantasy football supremacy, this startup-driven app is using an all-female design team to present a fantasy option that will appeal to women and people who haven't played fantasy sports before. As simple as that idea is, it's also revolutionary in the fantasy sports world, and it seems to be working rather well. Sleeper is a fun, full-fledged fantasy football app with significant funding and strong reviews.