If you have recently purchased a new Wi-Fi router and you are looking to give it a funny and interesting name then we are here to help you with that, in this article we will provide you with few of the best funny Wi-Fi names for your router network SSID.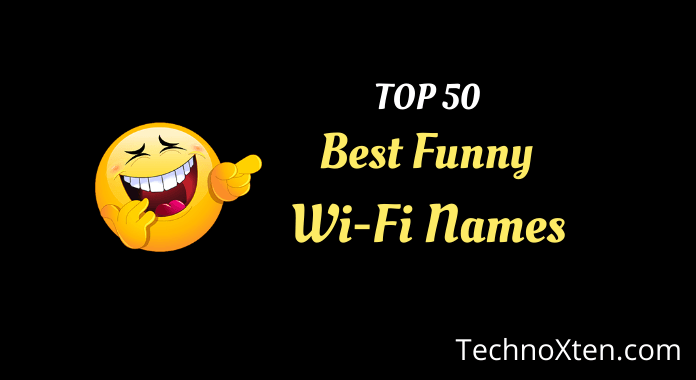 You must have seen that manufacturers assign boring names to your router. They are so complicated that even you might forget them. When you purchase a new Wi-Fi router, its name is somewhat like linksys 1548, TP-Link 875, and so on. But does that mean that you can't change this? Off course not. You can set whatever name you want to your Wi-Fi router. Let us understand how you can change your router's name:
How to Change the Name of your Router?
You can update the name of your Wi-Fi router as you want. It's not any complicated process and requires few steps only. You need not to panic and there's no need to call any customer support or so, you can do this by yourself only.
Step 1 – First of all, you need to find your router's web address which you can locate in the router's manual or at the bottom of the router. It will be somewhat like 192.168.2.1 or something else.
Step 2 – You need to enter this web address into your browser just like this: http://192.168.2.1 and voila you are now connected to your router from where you can configure your router's settings.
Step 3 – You can now enter the username and password of your router to proceed further. You can find this username and password in your router's manual or on the bottom of your device. Enter this username and password and login to your router.
Step 4 – Locate the field to update the router's name. Enter the desired name and click on save changes and its done, you have successfully changed your router's name. Restart the device and connect again.
Top Best Funny Wifi Names For Wireless Network
If you are having one of the good wifi names then it may become a discussion starter when you are with your friends. These days most of the people are interested in putting some of the best wifi names to their router. This sets their personality in society. You can not only set these names to your router but also to your smartphone's Hotspot (Wi-Fi). In this article, we have provided a list of a few of the best wifi names 2019 to give you an idea about your new wifi name. You can either select from those or set a similar name.
There are people who do not expose their wifi name and due to this other people can't locate their router. In case if you have set an interesting wifi name then you might also get compliments from other people. People love to set funny names to their wifi in order to establish a unique image among their friend circle.
The reason to set a funny or interesting name to your wifi router can vary from person to person. Someone might set it to deliver a special message and others might set this in order to stand out of the herd. Your neighbor will also consider you as a smart fellow if you hold a unique and interesting wifi name. It is really cool to give your router funny wifi names. Here you will get a few of the good wifi names that you can set to your router.
Whenever someone will try to reach your router or personal hotspot they will get a moment to cheer if they will see an interesting or funny wifi name. So it can also serve a good cause. So we don't make you wait anymore and we are providing a list of funny wifi names below:
List of Best Funny Wi-Fi Names For Your Router & Network SSID
You pay me now
I'm in your closet
I'm cheating on my wifi
Error 404: Virus inside
Infected with virus
Go get some sleep
Not for you
You are really annoying
It is my damn internet
Will you marry me?
Neighbors suck
Access denied
Don't trust
Don't blame me
I love booze
Call me for password
Password is password
Stop guessing
This is prohibited
Get your own wifi
You are really beautiful
Slow internet
No network found
it's not free
Default
Loading…
Zombies inside
I can feel your desperation
My eyes are on you
You are still a novice
Hack if you can
I am waiting for you
Try again and harder
Don't even dare to ask
Click here to load the password
In sleep mode
No more mister wifi
LANister's wifi
FBI has an eye on you
Virus.exe
Very slow internet, huh!
Virus WiFi
Access Denied
The Promised LAN
Silence of the LANs
No Wi-Fi No Cry
Girls Gone Wireless
Not Connected
Password Wrong
NO WIFI FOR YOU!
Spying On You
Please Connect for Identity Theft