Searching for Best WiFi Names?
Here in this article, we are going to share Best Funny Wifi Names and latest Cool Wifi Names for your router network SSID. These are the ultimate list of WiFi names which you never seen this before.
Router is basically a networking device that forwards data between computer networks. Nowadays, most of the people use routers at their home and offices. Even street vendors use wireless internet connection at their shops for the customers. Science has so many advantages and WiFi is one of them as you can get wireless internet connection anywhere and you can set it up very easily in any place. Because of the popularity of WiFi, you need cool, witty, hilarious names for your router that will make your personality more attractive and it will create an impact upon the users.
It becomes quite difficult when you start thinking about names for your WiFi as well as your router. Many people do not get the names that they want and therefore they do not edit the name and leave it as it is. To get rid of this difficulty, here in this article, you will get best wifi names collections list for your router and SSID WiFi Connection
Best WiFi Name Collections List for Your Router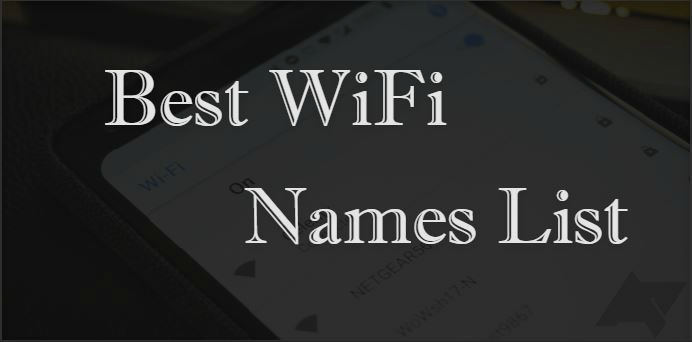 Good Wifi Name Ideas For Routers 2018
Hackers DAN
I believe Wi can Fi
No More Mr WI-FI
Very Slow Internet
I hate my Wi-Fi
Silence of the LANs
Tell my Wi-Fi love her
The LAN Before Time
Children are not Allowed
Help, I'm Trapped in a Router!
The Promise LAN
Titanic Syncing
Wham Bam Thank You LAN
Don't Even Think to Connect
Instant Virus Infection
Hard Drive Format in Progress
Horny Connection
Above 18 LAN
Wi-Fight the Feelings
Haunted House
The Promised LAN
The Death Star Gunner
Bill Wi The Science Fi
Don't Click Me Bro
Lot LeopardSecure
Wifi is Bae
No More Free Stuff
Connect on your Own Risk
Life in the fast Lan
Martin Router King
Hack Me If you can
Interesting Names for Your Router
If you are looking for some interesting names for your router, the following names will surely attract you:
404 Not Found
This is Not Free
Connect for Identity Theft
Help! Help! Help!
You are Trapped
All Your Bandwidth Belong to Us
World Wide WiFi
Virus Army
Recharge and Use
Horny Connection
Sorry, you can't use this
LAN of the Milk Wifi
Drop it like it's Hotspot
No Wifi Network Found In Your Area
Hide Yo Kids Hide Yo Wifi
Virus Squad
Game of WiFi
Funny WiFi Names
Fun is one of the important aspects in our life and so your wifi also needs a funny name. Therefore, if you want to set funny wifi names, the names mentioned below will be suitable for you: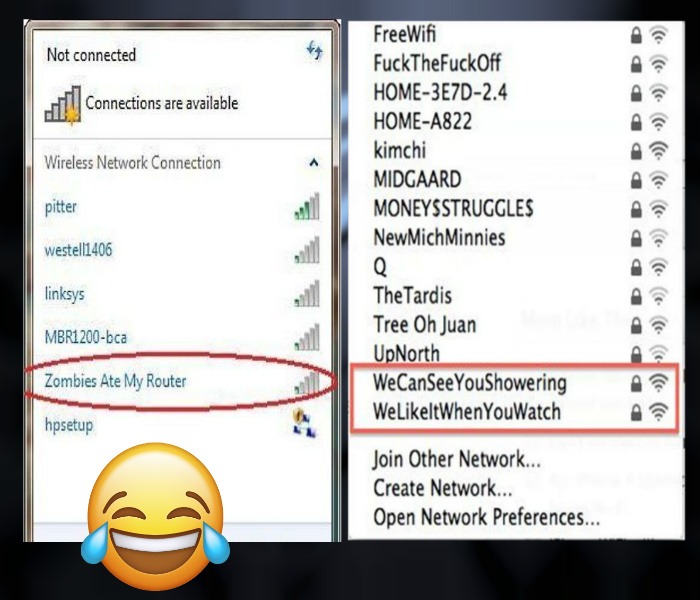 No Free Wi-Fi
Friends! Chai pee lo
You Pay Now
Get Your Own Wi-Fi
Alert! Virus Found
Call Me Maybe
You can't see me
Please connect for identity theft
Virus destruction center
Can you smell me?
No free so get stuffed
Get off my lan
Use this one mom
I believe I can fly
All your bandwidth belong to us
Bajrangi Bhaijaan
Ambani ki Kirpa
Khud Ka Le Le
Very Slow Internet
sit right there, I'll tell
you how I become the prince
I'm hunter your bed
Password is Password
SlowInternetSlowFap
Not Free So Use 3G
Clever Wi-Fi names for your router
If you want to set a clever name for your router to get rid of unwanted visitors, the below-mentioned names are for you:
Connect to Destroy
Go Home Tourist
I am Watching
Password is YOU
High Radiation
Only for Ugly People
Go Away You Mugglee
The Black Links
Go Home Tourist
Will you be my Wi-Fi?
Pirates of Wi-Fi
Londan Bakery
No Wi-Fi No Cry
Pay your rent
Take less
Moving with your aunty
Warning! Malware signals
Smell my socks
WI-FIght the inevitable?
I am the Internet, AMA
You can't Beat me
I think, there I am
Bang Bang!
Forbidden Fruit
Your Device Might be Infected
Pay First
Quit Using My Wi-Fi
Cool Wi-Fi Names for your Router
Who does not want coolness in their attitude? But it would be very good if you use cool wireless network names for your router. Here are some cool names for your router:
Password is Your Name
Wi-Fi under construction
Don't touch, it is Hot Spot
Join to Donate
Look Your Back
Crack Headed
Don't Break The Rule
We Love Your Tap
Network error
Hack me
Free Public Wi-Fi
Let them use it
You're all noobs
Talk Less, Work more
No Wires, Still alive and working
Everyday I'm buffering
Scooby-Doo, Where Are You?
Chicken Crossed the Road to Steal Our Wifi
Winner Winner Chicken Dinner
Do you play PUBG
Guess Where We Live
Keep it on the download
Dora the Internet Explorer
No Free Wi-Fi Here
I Love you my wifi
Pick up your dog shit
The Password Is 1234
No Wires, Still alive and working
Best Wifi Name Ideas for Router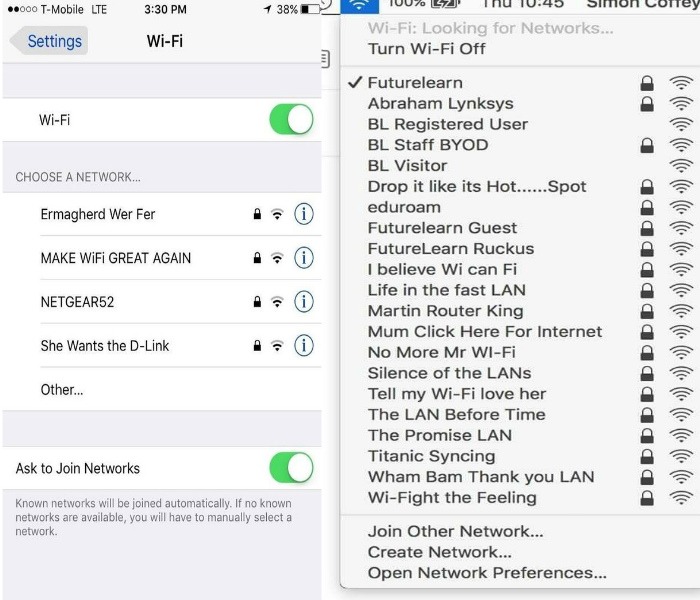 Please go to hell
NETGEAR52
Awesome Voice
Pink Ladies
Ask your sister
Out of Coverage Area
Shut Your Mouth
Password is Nothing
She Wants the D-Link
Call Me When You Free
New USA Clam Router
KungFuPanda Part 04
I Love My Neighor
This is my password
Sorry I am busy
Catch u Later
Try Next Time
Press the download Button
Interval Time
This Router doesn't exist
Found 404 Error
only for girls
Born to ride
Press 1 for the password
Watching mOvie
Practice is key to success
Today School Holiday
Holiday for next 2 months
Dad of attitude
Nerdy Wifi Names List 2019
ProtectYaNet
Loading…
Routers of Rohan
The LAN Before Time
Return of the Ping
Lord Of The Pings
Silence of the LANs
The Twin Routers
This One Mum
Scanning
Connecting…
Get off my LAN…
TellMyWiFiLoveHer
TellMyWiFiISaidHello
TellYourWiFiSaidHi
No more Mister Wi-Fi
SCIENCE RULES!
The Promised LAN
PrettyFlyForAWifi
FBISurveillanceVan1
Click here for internet
Take care of my pig
YourWifi_MyKids
GetYourOwnWIFI
Hotspot talker
MyWiFiIsNotTheIssue
Go Outside
B.I Surveillance Van
2 Girls, 1 Router
Pretty-Fly-For-A-WIFI
Motivational Wi-Fi names
Sometimes later becomes never. Do it now
Never, never, never give up.
Dream it. Wish it. Do it.
Yes we can do IT
Clarity affords focus
Work Effortlessly
Come, Let's DO It
Never Lose Hope
I will Bounce back
No Shortcut to success
I can, therefore I am.
Dream bigger. Do bigger.
Whatever you are, be a good one.
Little things make big days.
Don't wait for the opportunity. Create it.
Dream it. Believe it. Build it.
Every moment is a fresh beginning.
If you dream it, you can do it.
Turn your wounds into wisdom.
Hope is a waking dream.
The obstacle is the path.
Handwork is the key to Success
Game of Thrones Wi-Fi Names
Game of Thrones is one of the best drama series in Hollywood and People are mad about this series. If you are a fan of Game of Thrones, you will surely fall in love with the following names:
The Ping Slayer
Wi-Fi Coming
John_Snow_Knows_You
Don't Break The Brotherhood
Wight-Fi
The Mad Ping
All Men must Connect
A Router of Ice and Fire
The Vale of Arryn
Harry Potter Wi-Fi names for Network SSID
If you are a big fan of the Harry Potter series and if you are looking for names that will give you the taste of Harry Potter, the following names are suitable for you:
The Dark Links
Lord Voldemodem Network
Wizard World
Get Out You Muggie
Hogwarts Ping
The Patronus
Order of the Phoenix
Magic of Your Heart
Welcome to the dark World
Ravenclaw wi-fi
The Floo Network
Guardium leviosa
Best Disney Wi-Fi names for Wireless router SSID
We all are somehow deeply connected to Disney, and so the best Disney Wi-Fi names are given below to add the flavor of Disney to your router.
Hakuna Matata
The Lion wi-fi
Snow-Fi
Haunted World
LANtasia
The Magical LAN
Wi-Fi King
Monster ki Duniya
World of Dwarfs
11 dalmations
Wi-Fi in Jungle
Sher Khan ki WI-FI
Leave Your Mouse
Best Marvel Wi-Fi names for your router
Who does not love Marvel? Everyone wants to be an Avenger. The number of Marvel lovers are being increased day by day and therefore the following names will surely attract Marvel lovers:
Ant-LAN and the Wasp-Fi
Arc-LAN Reactor
Web of Evil
The Winter Router
Arrow-Fi
Hulk Buster
Tap to Face Thanos
Doctor Wi-Fi
Thor the Thunder-Fi
LAN for Avengers
JARVIS 2.0
Speedy-Fi
Browsers Assemble
Cosmic LAN
Conclusion
In conclusion, it may be remarked that if you are looking for Wi-Fi Network names for your router and network SSID, this article will surely help you. You will get different kinds of names as per your taste. These names not only add uniqueness but also provide pleasure to your mind and so share these names with your friends to spread uniqueness as well as happiness.