Everybody has different style and everyone wants to decorate their smartphones in their own way. Therefore, it must be mentioned that everybody prefers different type of keyboard. We need keyboard for writing SMS, MMS and answering to mails. We also need it to make notes and web searches.
There are many keyboard applications available on android play store and each keyboard has its own features. Here, in this article, you will come to know about the top 10 best keyboard apps for android.
Also Read:     Best Xbox One Emulators for Windows/Mac
Best Keyboard Apps for Android 2019
Go Keyboard – Keyboard App for Android
Gboard – the Google Keyboard
SwiftKey
Dextr Alphabetic Keyboard 2.0
Ginger
Flesky
TouchPal
Chrooma Keyboard
MessagEase Keyboard
Smart Keyboard
#1. Go Keyboard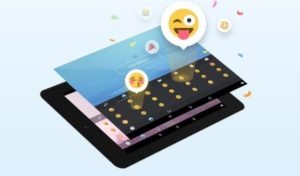 If you love to use emoji in your chats and messages, this keyboard is made for you as it has 140+ emoji themes. Besides it consists of more than 900 emojis and attractive keyboard layouts which would surely make a good impression upon you.
Another important feature is its multiple language support. It supports more than 65 languages with various input methods and it also helps to increase the typing speed of yours. So, using Go Keyboard would be a smart choice for you.
[appbox googleplay com.jb.emoji.gokeyboard]
#2. Gboard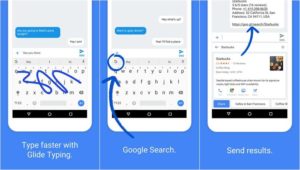 Gboard is another free keyboard application of Google and it has all the features that you are looking for. Some of its important characteristics are mentioned below:
Gesture typing
It supports multi language
In-build Google search option
Users can input emoji
Besides, users will get continuous update from Google and therefore users can taste a bug free experience. It also helps you to get nearby stores, restaurants and many other important things.
[appbox googleplay com.google.android.inputmethod.latin]
#3. SwiftKey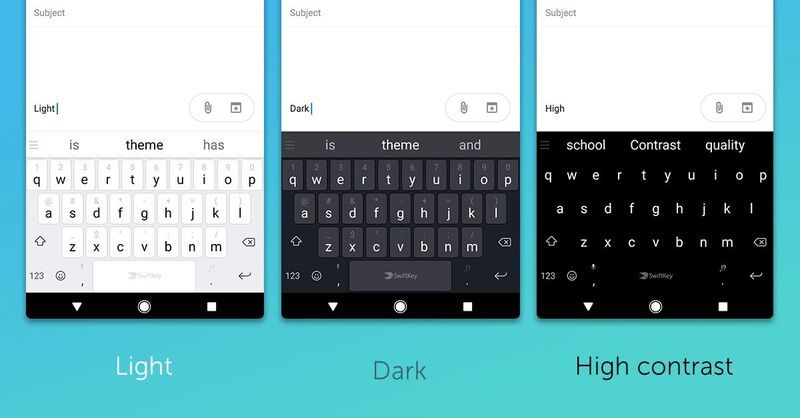 SwiftKey has been gaining popularity since its launch as it provides functional and cosmetic customizations. Swipe typing is a great feature that makes it different from others
The app is completely free and available on Google play store. It has some amazing features which are mentioned below:
SwiftKey Cloud
There is a predictive tool which is used to connect to your social profile. Thus SwiftKey learns typing habits from your social activities.
Predictive emoji.
[appbox googleplay com.touchtype.swiftkey&hl=en_IN]
#4. Dextr Alphabetic Keyboard 2.0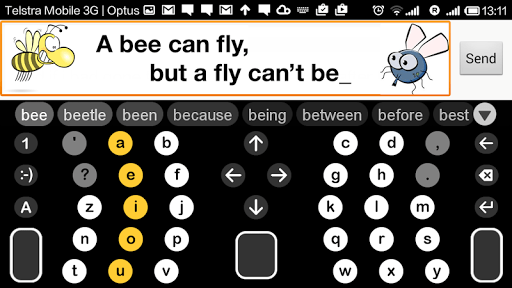 Users who do not like QWERTY keyboard may install Dextr on their android devices.
Dextr provides keyboard letters that are systemized in alphabetical order. Therefore, you do not have to look for letters here and there. It is adaptable and even better than alphanumeric keypad. So, people who have shifted from normal feature phones to android smartphones will surely love this android app. Besides, the sizes of the keys are finger-friendly. Dextr supports more than ten languages and it has a special layout for the left-handers.
[appbox googleplay com.appalladium.android.dextr]
#5. Ginger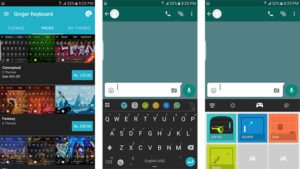 Ginger is another free keyboard app that always keeps improving. It has gained a huge popularity and there are some reasons behind this.
One of the important reasons is the text prediction analysis which is very helpful for its users. Other reasons are as follows:
Spell Checker that simplifies quick grammatical correction, typing as well as punctuation
Sentence recomposition system that reduces repetition
It also acts a notebook and text files created in this app can be easily shared on other platforms in real time.
[appbox googleplay com.gingersoftware.android.keyboard]
#6. Flesky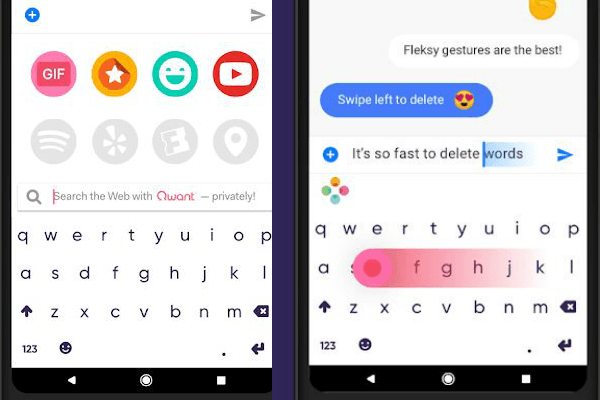 Flesky is another free keyboard app that makes your writing effortless. It is one of the most top rated apps on play store. It has a lot of themes and users can even change the color of keyboard. It has auto-correction which is very accurate.
For emoji lovers, this keyboard would be very appropriate as it offers more than 800 options which make your conversations very precious. Users can also send GIF messages through this keyboard.
[appbox googleplay com.syntellia.fleksy.keyboard]
#7. TouchPal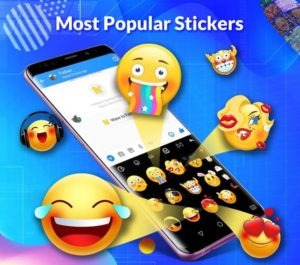 TouchPal is a great keyboard app that gives you a complete package. It has all the premium features that you are looking for. TouchPal has gesture typing with word prediction. Besides, it has auto-correction and it consists of multiple layouts.
It has some extra features for its premium users. While shifting from old device to new device, Users with premium access can synchronize their personal dictionary and predictive typing setting with the new device. It also offers improved typing suggestions and emoji gallery.
[appbox googleplay com.cootek.smartinputv5]
#8. Chrooma Keyboard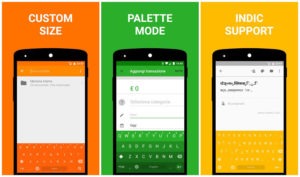 Chrooma is one of the best free keyboards for Android. It has some amazing features that would surely make a good impression upon you. Some of its interesting features are mentioned below:
Swipe typing
Predictive typing
Auto-correction
It also has battery saving mode which is very helpful when your device has low battery. It basically changes its color according to the active app and thus it saves some power. It also has night mode that would be very useful while typing in the darkness.
[appbox googleplay com.gamelounge.chroomakeyboard]
#9. MessagEase Keyboard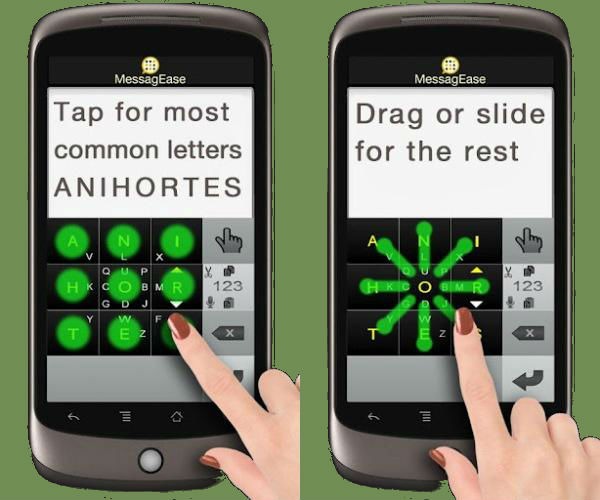 MessagEase keyboard is completely different from other keyboard apps. It will provide a very good typing experience that you will not get from others.
They keyboard helps you to type faster and it is scientifically designed to increase the speed of your typing. It supports 82 words per minute. You can even bold and underline your text through this application.
[appbox googleplay com.exideas.mekb]
#10. Smart Keyboard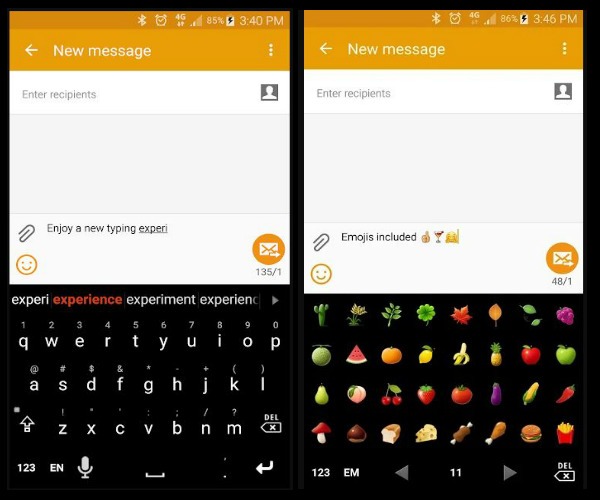 If you do not like small key size, you should add some smartness to your keyboard and for this particular reason, you should go for Smart keyboard which is a free android application available on Play Store.
Smart Keyboard helps you to resize the keys; you can make it either bigger or smaller. The choice is yours. But one important thing that you should keep in mind that if you increase the size of the keys, few options will be available on screen.
Besides the design of this keyboard is similar to that of iPhone keyboard and therefore, if you are an iPhone lover, this keyboard would surely attract you.
[appbox googleplay net.cdeguet.smartkeyboardtrial]
Conclusion
In conclusion, it may be remarked that keyboard becomes an important aspect in our daily life as we use it daily in our professional life as well as private life. Therefore, selection of a suitable keyboard is an important thing that you should do first. Here, in this article, you will get the details of top 10 free Android keyboard and it would surely help you to make the right choice.